Zoiehealth partnered with Aura to create a Zoie panic button that allows women to request immediate armed or medical response. According to the 2019 Global Homicide Report by the United Nations Office on Drugs and Crime (UNODC), South Africa is in the top 5 countries with the highest rape, femicide and female assault statistics in the world.
Approximately 51% of South African women over the age of 18 have experienced gender-based violence and at least 7 women are murdered every day in South Africa.  
The latest crime statistics published by the South Africa Police Service aren't any less scary with an average of 67 murders and 153 rapes reported every day. At Zoie, we believe that we can't talk about women's health without talking about women's safety, especially in South Africa. Given the danger many women face in South Africa, we wanted to be part of contributing to helping women feel safer and more secure.
As such, we've launched the Zoie Plus Emergency Panic Button targeted at women. By using the AURA technology, Zoie members can request an immediate armed or medical response via the Emergency Panic Button feature on the Zoie app, wherever and whenever they may need it, all in the palm of their hands.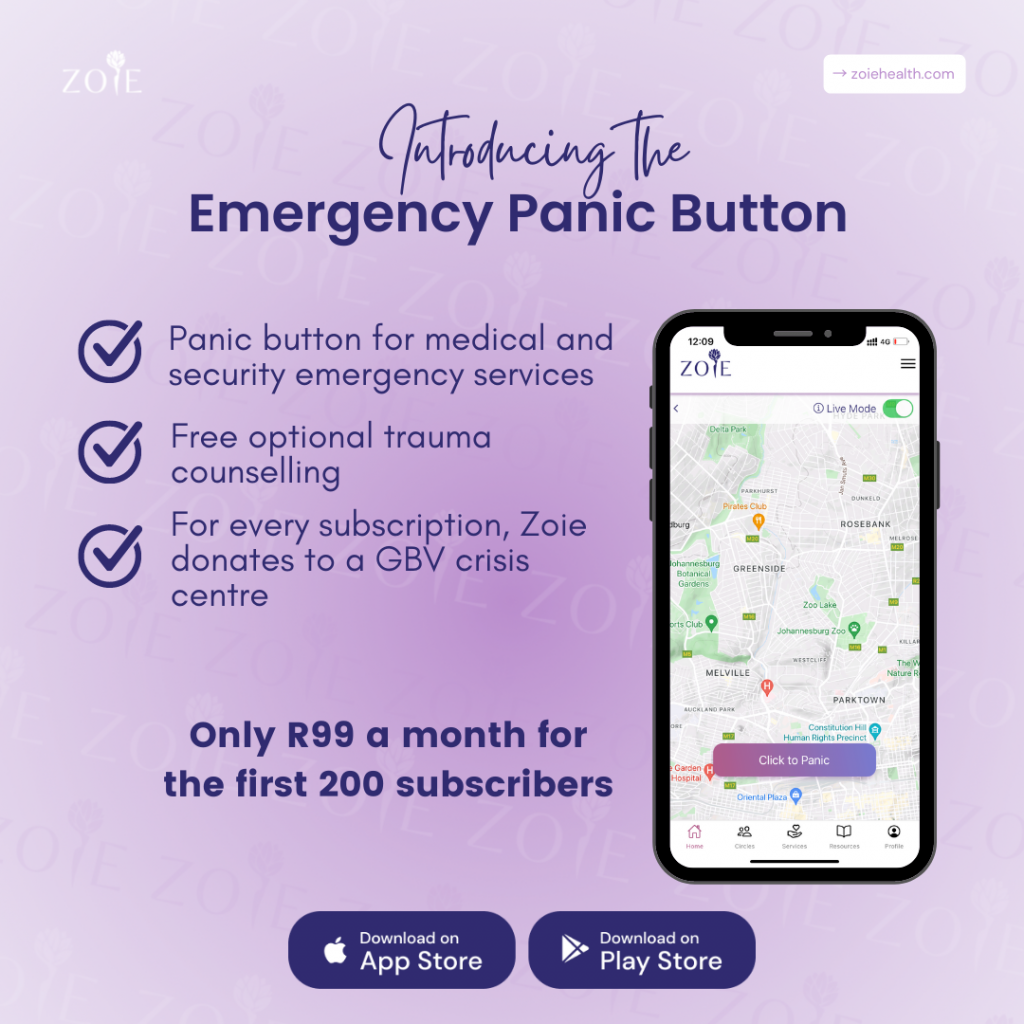 How The Zoie Panic Button Works
Zoie's partnership with Aura enables Zoie members to connect to a network of registered armed response and medical response units in real time. Subscribers can request immediate mobile armed response and medical assistance by tapping the Zoie panic button in the app and the closest available unit is then directed to the member via their smartphone's location services.
Should they experience an incident, the Zoie panic button allows Zoie members also get access to free trauma counselling.
Zoie Health co-founder Thato Schermer shares, "We are constantly looking for opportunities to better serve and care for our members and being a woman in South Africa, safety is often our number one concern. So this is personal for us as a team as it is for so many other women in South Africa."
Justin Sattner, Aura South Africa GM echoes this sentiment. "Safety for women in South Africa is a top priority, especially when we look at the statistics. We're proud to have helped women in domestic violence and sexual assault incidents and will continue to focus on saving and improving lives."
As part of the partnership with Aura, Zoie members have access to Aura's wide network of responders, which includes 5 400 armed response officers, 250 armed response service providers, a 5-8 minute response time for medical and security emergencies and coverage across all 9 provinces in South Africa.
To find out more about the Zoie Plus Emergency Panic Button or to subscribe, download the Zoie Health app on iOS and Android.