Having a postpartum guide as a new mom can be such a relief. Like many new moms, you've probably scoured the internet and read dozens of articles and books about how to prepare for your baby's arrival.
But now that your baby is here, how do you take care of yourself? The journey post giving birth can be quick and easy for some while most mothers will need to go through a period of recovery.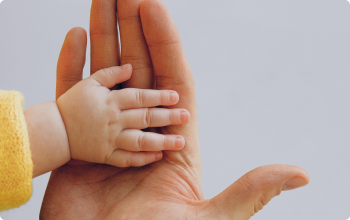 Below, are the tools and tips to cope once you've delivered. Make sure to add these to your arsenal.
Tools From Our Postpartum Guide
Maternity Pads
After giving birth your uterus will shed the lining that used to be your baby's home for 9 months.  This experience will be similar to a long and heavy period. It can last for between 3 -10 days which will be followed by spotting for another 4 weeks. During this time you will need to rely on pads. Avoid tampons as they may introduce bacteria and cause an infection. 
Perineal Pain Ointment or Cream
Giving birth will be traumatic to your vagina and may result in cuts, tears and general discomfort. Speak to your doctor about recommending or prescribing medication to assist you through the perineal pain you will experience after giving birth.
Epsom Salts
Soaking yourself in warm water with Epsom salts will help relieve the perineal pain you will experience in the days after birth. This is because this will relax your muscles, soothe soreness and reduce potential itching.  You should consult with your doctor about which brand is safe for you to use. 
Mild Laxative
Giving birth may cause you to have weakened abdominal muscles and medication may also cause constipation. Therefore it's normal that you may be a little constipated after giving birth. You will need to adjust your diet to be fibre rich to encourage bowel movements. In addition, you can ask your doctor to recommend a mild laxative to help you along with the number 2!
Postnatal Vitamins
Medical practitioners will usually encourage new moms to continue taking their prenatal vitamins in order to ensure that their immune system remains strong. This is especially important if you are breastfeeding as you will need to refurbish your body to keep you strong.
Overnight Nursing Bra
We can't end our postpartum guide without this lifesaver. For moms who will choose to breastfeed, a well-fitting nursing bra will be your best friend. A good nursing bra will help with cracked nipples and should be stretchy so that you can pull it out of the way when you need to feed your baby. 
Motherhood is probably a drastic change for you, but that doesn't mean you won't be able to cope. With the right resources and adequate preparation, you're sure to come out on top.